Neurofeedback Therapy
Noninvasive Corrective Biofeedback Treatment
ADD/ADHD
Neurofeedback for ADHD treatment has proven to be an especially effective intervention in very young patients providing them with greater control over their cognitive functions both as children as well as adults.
ASPERGERS & AUTISM (ASD)
Neurofeedback has been shown to dramatically improve the quality of life and the level of functionality in those who suffer from ASD.
MIGRAINE/TENSION HEADACHES
Reduction of both frequency and severity of these types of headaches with the use of neurofeedback therapy has been documented to be as effective as medication without the undesired side effects.
PEAK PERFORMANCE
Neurofeedback has been a closely guarded secret of super successful individuals for decades and has provided them with the edge they need over the competition.
ANXIETY DEPRESSION & OCD
Severity and propensity of symptoms have been shown to dramatically improve with neurofeedback in conjunction with additional chemical or hormone support especially in children and adolescents.
FIBROMYALGIA/ CHRONIC PAIN/FATIGUE SYNDROME
Neurofeedback has been proven to provide relief and improvement of symptoms of these syndromes within a matter of just a few sessions.
WHAT IS NEUROFEEDBACK THERAPY EXACTLY?
Neurofeedback is also known as EEG Biofeedback. It is a guided exercise for the brain to retrain and retain the proper brainwave patterns and improve and or stop the imbalances that are a result of brainwave dysregulation.
Nearly every individual will suffer from some degree of brainwave disregulation due to tension on the nervous system caused by subluxation (spine out of alignment), poor nutrition, stress, food sensitivities, drugs and medications, trauma, etc.
Once these irregularities occur they induce a host of neurological symptoms that may go unnoticed or present themselves in various neurological and chemical conditions such as attention deficiencies (ADD/ADHD), dyslexia, speech tics, migraines, insomnia, long and short term memory loss, pain, fatigue, weight gain, hormone imbalances, anxiety, depression, panic attacks and so on.
Over 40 years of research has demonstrated that with specific corrective brainwave therapy, these conditions can be improved and or completely disappear depending on the severity and unique situation of the patient and have even been used to correct post stroke trauma.
Most notably, children have a very high positive response rate to these therapies as their brains are still very highly adaptive and flexible in adopting new behaviors and patterns.
After the proper brainwave patterns have been established in the patients brain, the positive effects can be long lasting and have been shown to last up to 30 years or more.
HOW IT WORKS:
Neurofeedback begins with a Quantitative Electroencephalogram (QEEG) evaluation. The procedure consists of placing a cap on the head that has 12 sensors that measure and record brainwaves coming from the brain.
Once the brain signals have been recorded, they are compared to a statistical database of normative behavior and a Brain Map report is generated to allow the doctor to asses what training protocols are needed and will prove most effective.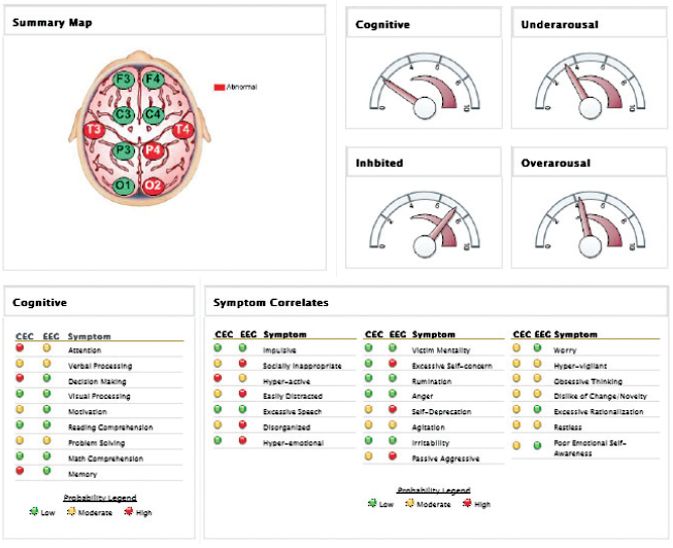 Since the sensors are noninvasive (as no electrical current is put into the brain) but only the brain itself is controlling the software, the software can automatically adjust the feedback which appears in the form of a game, movie, or sound to reward the brain whenever the proper wave-forms are established by allowing the patient so see and hear the media.
Contrary to what you might think, you cannot 'will' the software to have it do what you consciously want it to do. It operates directly at the subconscious level and therefore even very little children can benefit from it as it does not require active interaction, only attentiveness which enables the subconscious brain to adapt and learn to adopt the new behavior.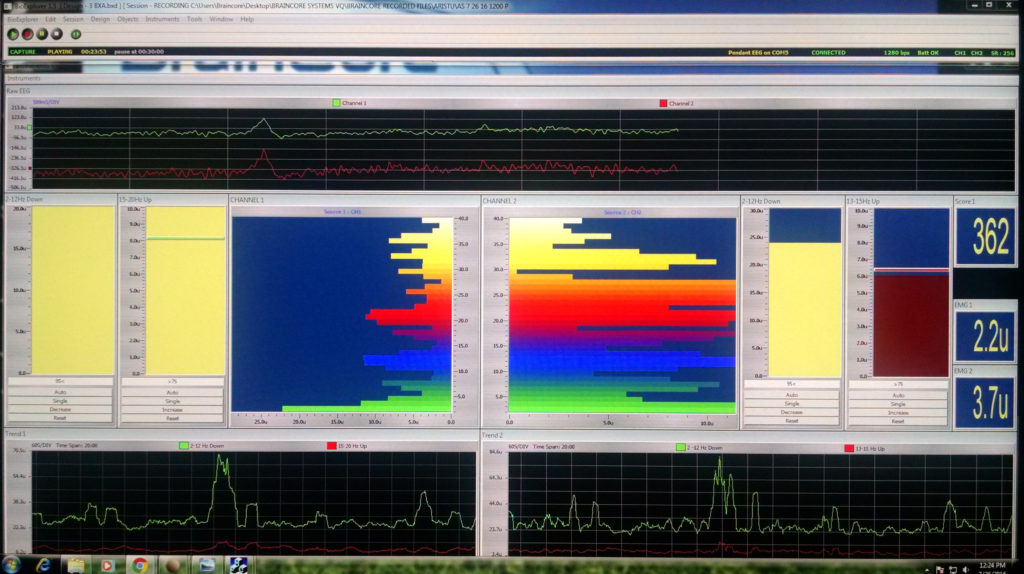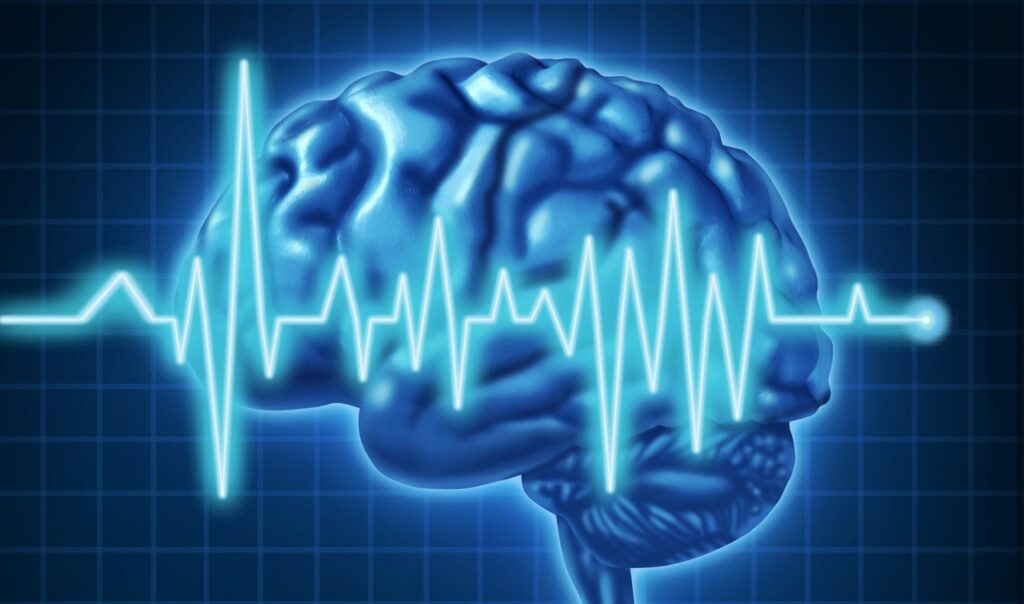 The right sequence of protocols are selected and are then utilized on subsequent sessions to retrain the brainwave patterns towards normal function. After a determined number of sessions a second QEEG assessment is done to assess the efficiency and effectiveness of the brain's new patterns and to determine what are the optimal next steps or protocols.
As the brain progresses and improves, the protocols will change to accommodate and work towards optimal function.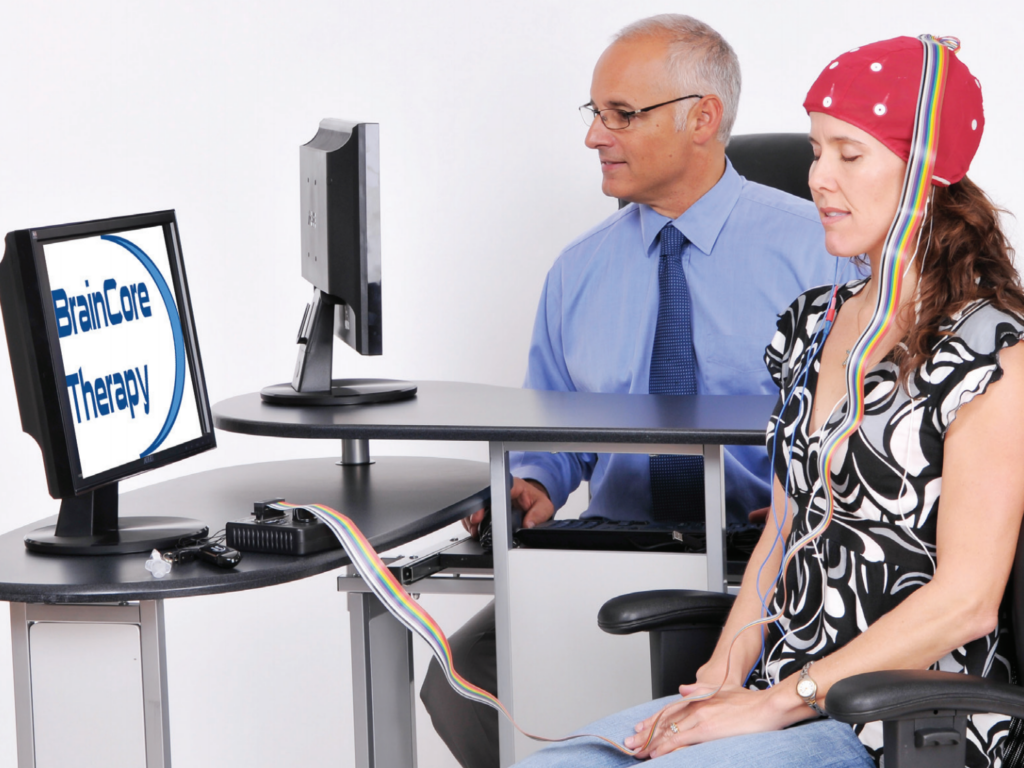 After the complete initial series of sessions are completed, the patient and administrator reassess how the brain is functioning as well as how the patient feels to see what additional protocols, medications, nutrition, or other needs would be beneficial to the patient.
Once completed, a patient may come in every month or so for a refresh session to continue to reinforce the positive gains and help maintain healthy brainwave patterns over the long term as new stresses occur as a part of normal life.
FAQ
Get answers to your frequently asked questions here.
Is neurofeedback dangerous?
It is completely noninvasive and is regulated and approved by the FDA. It does not induce any electrical current into the brain and has been shown to have NEVER produced a serious side effect since it was first discovered over 40 years ago.
Are there published studies demonstrating the efficacy of this treatment?
For over 40 years it has been studied in research labs at prominent universities throughout the world and you can find numerous publications of medical studies that can be downloaded for you to review by selecting any of the sections in the Learn More area of this page .
A very well respected Dr. Frank H. Duffy, a Professor & Pediatric Neurologist at Harvard Medical Scool stated:
"Neurofeedback should play a major therapeutic role in many different areas. In my opinion, if any medication had demonstrated such a wide spectrum of efficacy it would be universally accepted and widely used."
We encourage you to read and review any of the studies provided and research on your own if you want to find further evidence of the benefits of this type of treatment.
How long is a treatment session and how many will I need before the changes are permanent?
A normal treatment session will last 30 minutes and most patients will typically do 20 sessions. In some cases, it may require more but keep in mind that these changes have been shown to be permanent.
Just as you learned to ride a bike as a child and can go for decades without doing so and then hop back on like it was yesterday, the brain itself forms new circuitry (referred to as Neuroplasticity) as a result of these sessions and it is exactly how we learn and adopt new behaviors and thought patterns. These sessions will help the brain literally change its structure to keep the benefits that can last.
Kayli T. -Texas
Neurofeedback therapy has greatly improved my ability to read and retain what I am reading…I am even able to read while listening to music and having children running around which is something that I haven't been able to do in well over 5 years.  I have noticed my impulse control has improved and my ability to reason and handle tough situations with more clarity and focus.  I am so happy with my results.
Liz C. – Texas
I have been so incredibly pleased with the progress my son has made through NFT. My son deals with Sensory Processing Disorder and ADHD. Neurofeedback has made more progress for him in a month and a half than other therapies have done in over a year.  He is softer in his tone with us, as well as his siblings, he is not easily agitated and acts less on impulse.  He is willing to try new foods…the list goes on and on.  This therapy has brought so much positive change to our son's life and to our family!
Dr. Frank Duffy – Harvard Med
Neurofeedback should play a major therapeutic role in many areas.  In my opinion, if any medication had demonstrated such a wide spectrum of efficacy it would be universally accepted and widely used.